Nintendo NES and Super SNES Hybrid
If you were a child of the 1970's and 1980's like me then you probably remember the Nintendo (NES) Entertainment System and the Super Nintendo gaming systems.
I'm guessing that a lot of the Gadget Blog readers might still own fully working console systems and have a box full of dusty game cartridges like I do as well.
Well for you gamers who don't have the original console systems anymore because your mom sold them at a garage sale or donated them to charity, this is for you: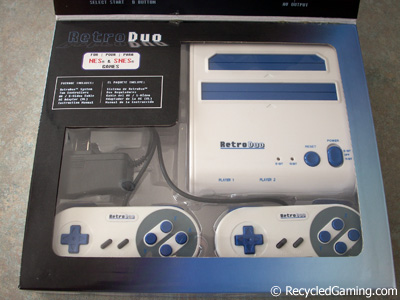 *insert angelic music*
The Retro Duo is awesome! I have one as a back up to my original classic NES and SNES console systems.
So what is the Retro Duo gaming system? It's basically a tiny console from Innex that accepts both NES and SNES cartridges.
As an added bonus, it's Region Free, so you can play import games that never got released in the USA as well.
The best part about the Retro Duo? It costs less then $50.00 USD and comes with two controllers.
I love my Retro Duo. Don't get me wrong, I play my classic systems too, but this is a great system for a small price.
If you want to order one, here's a link the official product page.
If you don't have any games to play, you can check your local thrift stores or neighborhood garage sales as I'm sure some mom is selling off a kids gaming collection as I type this… *sniff*
Source: Retro Duo via RecycledGaming.com